Welcome
The Academy Swim Club is the only year-round, child friendly Aquatic Safety Program in the Santa Clarita Valley. For over 25 years, we have provided a top quality, internationally recognized Learn-to-Swim program to thousands of young children in our Valley.  Ask about about our swim lesson guarantee.
We are located in the heart of the growing North Valencia area of the Santa Clarita Valley, near new shopping malls, schools, activities and the new cross town highway, Newhall Ranch Road.  It is literally minutes from Canyon Country, Castaic, Saugus, Newhall and Stevenson Ranch.
---
How?   We do so by teaching your child not only how to swim, but how to become safe around water. (Certification foundation through the United States Swim School Association and Aquatic Baby Congress.)
In our child friendly, indoor, climate controlled atmosphere, any hesitation to the pool is overcome by our warm, 92° water and our highly trained, gentle, caring and lifeguard certified instructors.   We provide water safety days for the community and go out to schools and preschools to share water safety lessons with thousands of young children every year.
---
Why?   Because children are 14 times more likely to lose their lives to water than to an automobile tragedy. (Statistics from Childrens Hospital of Orange County)
---
When?   Now! Ages 2 weeks to adult. "Every Child a Swimmer by 3!"  Our program is continual, YEAR 'ROUND. Spring, Summer, Fall and Winter. It is not only much more beneficial to your child, but also financially prudent to give your child a full year of swim instruction. They will learn more in that year then they would in 4-5 summers elsewhere.
Programs Offered
-Private, Semi-Private & Group Swimming Lessons

-Parent-n-Me & Baby Swim Classes

-Water Safety Program & Lifesaving Techniques Continuously Re-enforced

-Family Open Swim Time

-Birthday Parties & Sports Parties

-Physical Therapy

-Attention to Special Needs Children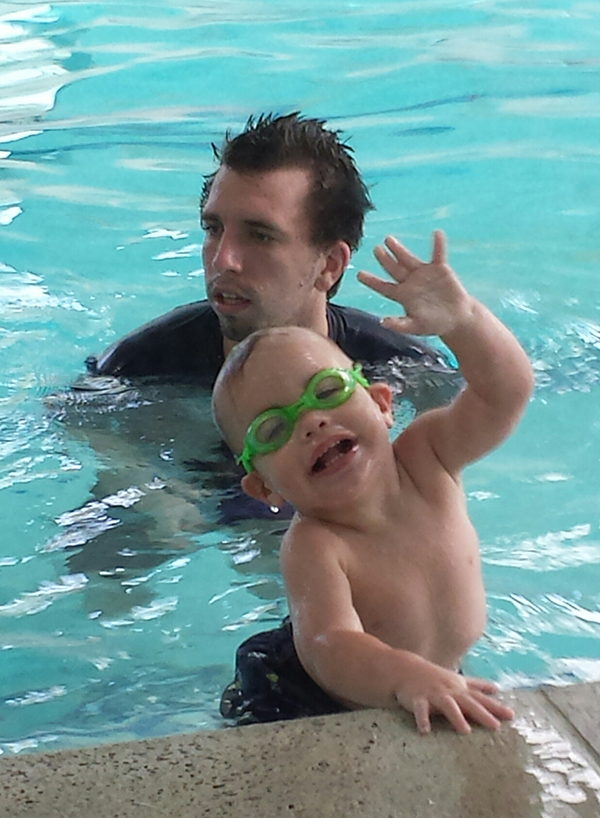 Are Water Babies Smarter?
A study conducted from 2009 – 2012, found that babies and toddlers who participated in Swim Lessons are hitting milestones ahead of schedule and before their non-swimming peers.  The swimmers not only excel in physical activities, but also in areas of cognitive and language development…
To read the study, go to: www.griffith.edu.au/education/early-years-swimming
---
Enjoy exploring our web site. We encourage you to stop by the Academy for a private tour. We look forward to your family becoming a part of our growing Family of Swimmers.
Call or sign up for a FREE trial, No Obligation, Private Swim Lesson Assessment, and Tour of our facility. (For NEW students only)
Dear Academy,
We are thankful for your program.  Without the training and instruction received over the years, there is no doubt that both of our children would have succumbed to the water. …we have found this to be an extremely positive experience…your staff and teachers are always so motivating…
S.M. - Valencia
Guarantee
If you are not satisfied with any lesson, let us know that day and we will give you another lesson, FREE!